Digital transformation at the heart of beverage industry concerns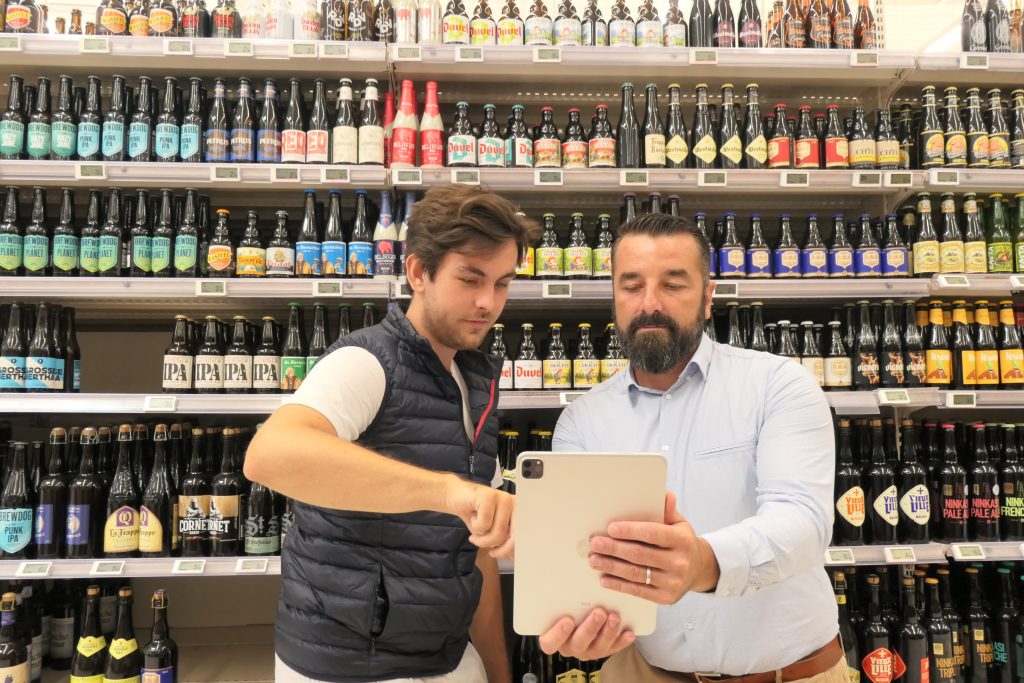 Digital transformation has become a major concern for manufacturers in many sectors. Indeed, technology is playing an increasingly important role in helping companies to improve efficiency, reduce costs and increase competitiveness.
Digital transformation is multifaceted and can be characterized by :
The adoption of new information and communication technologies (NICT) to automate production and management processes,
The use of sensors and other Internet of Things (IoT) technologies to gather real-time data on industrial processes and make more effective decisions,
The use of robotics and automation to replace tedious, repetitive manual tasks,
The use of augmented reality and virtual reality to train employees and visualize production and maintenance processes.
Digital technology offers unprecedented opportunities for players in the beverage sector.
In the report, "2022 Global Food and Beverage Industry Trends", International Data Corp. (IDC) reveals that companies that have adopted a predominantly digital transformation strategy have enjoyed significant productivity gains, among other operational performance indicators.
Around three quarters of those surveyed have reaped the benefits of their digital transformation initiatives, seeing a very positive evolution in their KPIs in a wide variety of application areas (production, quality, supply chain, logistics, sales, e-commerce…).
According to IDC statistics, a further 50% of the panel surveyed expect further improvements over the next 12 months.
The final key point to emerge from this study is that the companies that invested earliest in digital transformation – the so-called "early adopters" – are now reaping the rewards, with results far superior to those that are still hesitating, and potentially at a disadvantage.
Leaders in the beverage sector have all included digital maturity as a decisive growth lever in their strategic roadmap.
Whether in the beer, wine and spirits or soft drinks markets, the world's leaders have all set up a pillar to accelerate their digital transformation.
Open innovation is therefore more than ever in vogue, and is being implemented by major groups in a variety of ways and under a variety of names.
The "digital" strategic plans are broken down into a wide variety of axes and sub-axes, such as the extension of artificial intelligence to all areas of the business, the development of Marketplaces and direct-to-consumer (DTC) digital products, or finally the development of Blockchain technology.
An example of a digital transformation strategy – the Pernod Ricard Group's pioneering Transform & Accelerate plan.
Like many global players in the spirits market, digital transformation is one of Pernod Ricard's key areas of operational performance. Since the COVID-19 health crisis and the ensuing widespread confinement, consumption has shifted from the out-of-home circuit (mainly restaurants and cafés) to the home.
As a result, new uses have emerged and become firmly entrenched in consumers' buying habits, led by the rise of e-commerce.
Digital technology has become a sine qua non for growth.
The Transform & Accelerate plan aims to digitize the Group's brand portfolio, positioning it as a "Platform of conviviality".
This was followed by six major digital projects organized around three different programs. Three solutions are designed to strengthen business development through new value-creation models. As with all other players in the beverage sector, entire teams are dedicated to achieving these objectives, with particular responsibility for developing data analysis tools, the lifeblood of digital warfare.
A genuine ecosystem is in place to support the digital acceleration of players in the beverage sector.
On November 28 and 29, 2022, EasyPicky had the privilege of being one of over 200 exhibitors & start-ups at Tech For Retail, "a trade show 100% dedicated to technological and digital innovations for physical retail and online sales."
We're delighted to be part of this brand-new ecosystem of digital value creation, in fields as varied as omnichannel, logistics, customer data monetization, the customer journey, business intelligence, digital marketing, new online payment methods and retail media.
Innovative solutions abound in the digitalization of points of sale and the creation of automated stores.
On this occasion, we were able to confirm the growing interest of industry players (including some in the beverage sector) in our unique offline video recognition solution. It enables a given sales force to collect a large number of KPIs instantly, on a given shelf, and at an advantageous cost, which are then made available to strategic management. Data can be integrated with all the major CRMs in the digital industry.
Sur le long terme, la récolte de cette donnée prédictive permet de faciliter la prise de décision pour, notamment, permettre une meilleure gestion des promotions, des innovations, des rénovations.
On this occasion, users were able to experience our tool live on three varieties of a popular beer, straight from Belgium.
Three facings that are virtually identical, but easily recognized by our infallible application.
In conclusion, this is not the only use case that EasyPicky has succeeded in modeling.
When it comes to pallets, half-pallets, cylindrical products, products with "loose", partial or torn packaging, and packs seen from the front or side, beverages are recognized with a precision that rivals the human eye.
It's a real revolution and one that will undoubtedly fuel the digital initiatives of drinks manufacturers. These initiatives are becoming more and more numerous, and are becoming an inescapable reality for the future of this industry.
Sources :
Global Food and Beverage Industry Trends and Strategic Insights, IDC (sponsored by APTEAN), 2022
https://www.techforretail.com/
https://o9solutions.com/aim10x/webinar/global-2022-ab-inbev-the-ctos-story-of-their-digital-transformation-journey/
https://pernod-ricard.publispeak.com/rapport-annuel-integre-2019-2020/doc/article/20/
https://www.processalimentaire.com/procedes/brasserie-connectee-heineken-deploie-une-strategie-numerique-agile
https://www.aptean.com/fr-FR/insights/blog/2022-focus-areas-for-food-and-beverage
https://www.lemondeinformatique.fr/actualites/lire-la-dsi-se-transforme-et-voit-apparaitre-de-nouveaux-titres-91028.html
https://www.orange-business.com/sites/default/files/ab-inbev-orange-business-pr—march-21-2023—french.pdf