In-store Shelf Audit Management – History at a Glance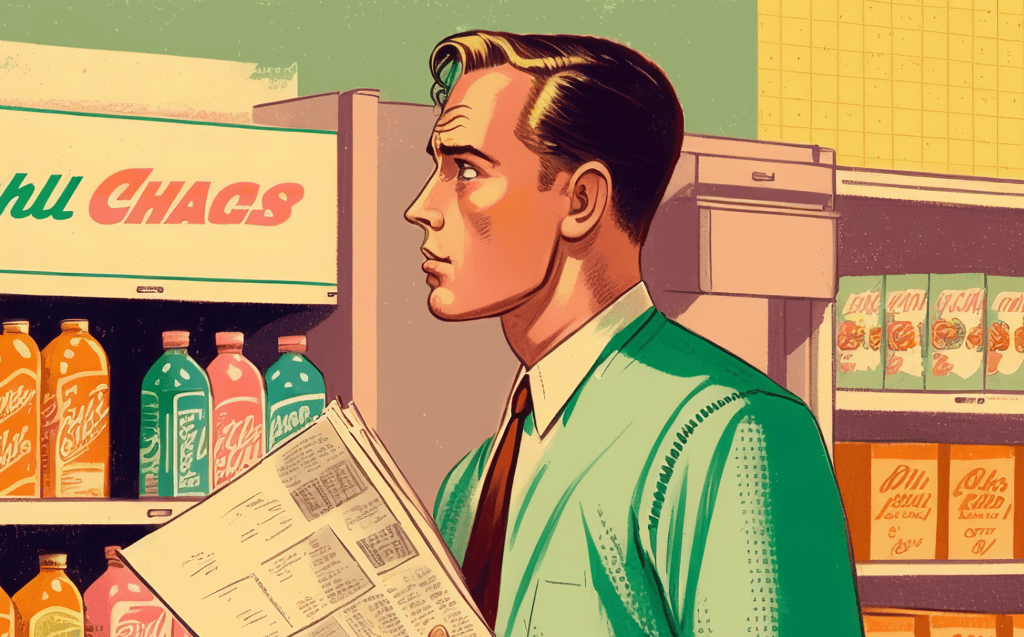 It originated during a period of economic growth in France, where the rise of consumerism and supermarkets led to increased competition among brands. More and more major brand names were established, and competition heated up. This competition pushed brands to rethink their order management system and make it more precise.
That's how the linear audit was born!
Initially, shelf audit management was used for order taking,
with supermarkets asking suppliers to analyze shelves and stock in order to place orders to department managers. Salespeople would record this information into their stock register to order the right quantities.
Thus, the very current retail responsibility scope that we're familiar with today between department managers and salespeople came about with order automation. Manufacturers concerned about their place in stores continued to take shelf audit management seriously, because a product that sells is first a product the end consumer can see.
Increasing amounts of data were collected over the years, whether the presence /absence of references, the number of facings recorded, as well as the product shelf positioning, and even the price check. Indeed, price soon became a very sensitive element for the major brands, particularly when negotiating with central buying services.
The technological (r)evolution:
Anyone in charge of auditing shelves will confirm: "Field auditing takes up a lot of time, we have to use techniques such as the Pareto law to collect the most important KPIs, yet a lot of information were still missing." Gilles former National Sales Director at Unilever
Many other sales directors share this view, having started their careers in the field: "we spend too much of our time getting information in store at the expense of negotiating or upselling." They were on the hunt for solutions designed to save time, collect more information, increase the overall number of visits and free up time for their field sales reps to negotiate with retailers.
At first, salespeople had laptops, followed by smartphones, and ultimately some were able to use photo recognition softwares from 2011 onwards. However, despite these technological advances, some kept on resisting change: no perceived added value, network problems in regard to CRM access, time wasted in data transferring. The first recognition software was not very reliable, and failed to deliver its promises (understanding of its environment and of the users' needs)
Consequently, traditional methods were considered more reliable and efficient, as"the good old method of counting by hand remained the most reliable and least frustrating".
With the ongoing health crisis, manufacturers have implemented means to access more reliable and recurring data, due to important changes in the ways people consume. They tend to prefer more local, fairer, healthier, and cheaper products.
Collection sources needed to be increased, particularly with the various points of sale, to open a wide spectrum of consumer types. At the same time, increasing shortages were starting to become the norm in hyper/supermarkets. Suppliers who chose to reduce their sales forces have changed their paradigm.
They even decided to perform audits in new retailer outlets, like cities-based small and medium stores. Despite new technologies becoming available, solutions available on the market presented several drawbacks: lengthy training needed to master them, need for a reliable network, product categories and environments not being handled, and low productivity gain.
EasyPicky created an app in 2017 that enables exhaustive product recognition through video, making shelf auditing and restocking easier without the need for internet access.
In 2022, with a quick and easy video, filmed using his/her smartphone or tablet, a salesperson is now able to recognise/detect all the products that belong to their theoretical assortment, or flag them as missing and/or out of stock. It only takes a few seconds for the artificial intelligence to do its magic, thanks to the image recognition technology.
By using EasyPicky, they can retrieve reliable data with a recognition rate above 98%. Furthermore, the collected data is instantly made available on their CRMs.
What a wonderful progress, isn't it? Finally, there's no limitation on the number of audits they intend to perform, nor on the KPIs they follow. Presence of refrigerators? People walking in front of shelves? Products placed on pallets? Strong light exposure? No biggie, as EasyPicky adapts to all their field environments, with utmost ease!
A new era is born, one of never-ending audits!
Benefiting from data instantly, everywhere, always, is now the way to go!